Angus Young Biography
---
Looking for an Angus Young Biography? Look no Further.. Here it is...
---
Angus McKinnon Young (born March 31, 1955 in Glasgow, Scotland) is a rock guitarist who has been a member of Australian hard rock band AC/DC since the group was formed in 1973. Angus is known for his hard-edge blues style lead (and signature vibrato), wild stage energy, and schoolboy clothing style.
Angus started playing guitar when he about was five. Another kid who lived nearby had one, and Angus would come over and play on it. He got his own "guitar" by taking a banjo his family had lying around the house and restringing it as a guitar. He didn't really get into guitar playing, though, until his early teens.
He got his first Gibson SG after seeing it in a friend's catalogue. Until then, he had been playing on his brother Malcolm's guitar, and an acoustic guitar.
For a part time job, before AC/DC and when the band had just started playing shows, it is rumoured that Angus worked as a writer for a soft-porn magazine in Australia.Angus Young practiced with his band, AC/DC, which was just developing at the time.
Angus had developed a trademark 'schoolboy' style in the band. One rumor is that he did not have time to change between his school uniform and band practice, and simply wore the uniform. The truth is though that his sister suggested he do it as a gimmick. Eventually, it became a signature trademark of the entire band.
Angus Young is notorious for his wild onstage antics. He entertains audiences with his intense moves and jumps onstage and with his running back and forth across the stage while playing the electric guitar.
During live shows, Angus would clamber on singer Bon Scott's shoulders and they would make their way through the audience with smoke streaming from a satchel on his back while he played an extended solo.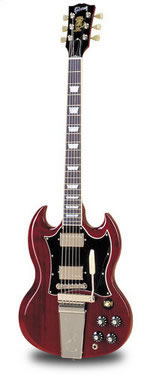 Angus Young currently has his own signature model Gibson SG.

In later years, Angus Young performed moves such as his own version of the Duck Walk, which was inspired by his idol Chuck Berry, and his "spasm", during which he throws himself to the ground, kicking, shaking, and spinning in circles, while playing the guitar, of course; both can be seen in the "Who Made Who" video.
Angus developed the "spasm" while playing live in a small club in Australia when he tripped over a cable onstage, while playing his solo. He made it into part of his act by having a seizure-like "spasm" onstage to make it seem as part of the act. It has grown ever since. Other gimmicks employed by Angus include his strip act, which is viewable during "Jailbreak" on AC/DC's Live At Donington DVD.
Angus Young influenced such bands as Guns N' Roses and Def Leppard. Angus cites his own influences as Chuck Berry, Muddy Waters, and other blues/early rock playersAlthough Angus Young keeps his private life out of the media it is known that he now lives in Sydney, Australia and Aalten, Netherlands. It is also known that he married his wife Ellen in 1980 right before Bon Scott died.
Maxim recently ranked the diminuitive Angus (5 feet, 2 inches tall) as tops on their list, "25 Greatest Short Dudes Of All Time," ahead of such notable "short dudes" as Napoleon Bonaparte, Martin Scorsese and Yoda.
This article is licensed under the GNU Free Documentation License. It uses material from the Wikipedia article "Angus Young".