Dave Navarro
From Wikipedia, the free encyclopedia.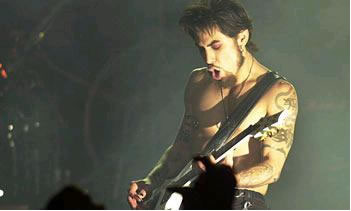 Dave Navarro

David Michael Navarro (born on June 7, 1967 in Santa Monica, California) is a guitarist who has played in the prominent rock bands Jane's Addiction and the Red Hot Chili Peppers.


Biography
Dave Navarro was born to James "Mike" Navarro and Constance Hopkins, who divorced when he was seven. Constance was murdered 8 years later and the killer was arrested many years later after a viewer tip when Navarro appeared on the television series America's Most Wanted. Navarro has two half-siblings, a brother and a sister, who are 27 and 31 years younger than he. Navarro has been married three times and divorced twice. He married his first wife, Tanja, in a pagan ceremony in 1990 and his second wife, Rhian, in a civil cermony in 1994. Dave Navarro married his current wife, model and actress Carmen Electra, on November 22, 2003.
Dave Navarro started playing guitar around the age of 12 and formed his first band South Dakota Railroad in junior high (where he also met future bandmate Eric Avery). In high school, he formed the band Dizaztre with Stephen Perkins on drums and Rico Quevedo on bass and vocals. Navarro joined the band Jane's Addiction in 1986 with Navarro playing guitar, Perry Farrell on vocals, Avery on bass, and Perkins on drums. The band became successful and became legendary in the alternative rock music scene. Personal tensions, however, led to their breakup in 1991. The Lollapalooza festival tour was created by Perry Farrell as a farewell tour for Jane's Addiction.
Navarro then formed Deconstruction with Avery on vocals/bass and Michael Murphy on drums and the band put out one self-titled album before breaking up. Dave Navarro then joined the Red Hot Chili Peppers in 1993 after the departure of guitarist John Frusciante, and the band's great need for a suitable guitarist.
Navarro only recorded one album with the Red Hot Chili Peppers, this being One Hot Minute. While many critics feel this album was a weak follow-up to the highly acclaimed Blood Sugar Sex Magik, most of the Red Hot Chili Peppers' devoted fan base greatly enjoy this album. During his Chilli Pepper days Dave also guested along with Flea on Alanis Morrisette's 1996 Jagged Little Pill album. Because at that point he wanted to focus on his upcoming solo project, Spread, and was not interested in recording and touring with the Peppers, and also because the band's chemistry was not working well anymore, Dave Navarro left the band in 1998.
He kept working on the Spread album, which at first included Chad Smith from the Chili Peppers. Jane's Addiction also reunited for a few shows in 1997, 1999, and 2001 with Flea and then Martyn LeNoble replacing Avery on bass.
Dave Navarro also played bass and guitar in 1999 for the band Nancy Raygun with his then-girlfriend Monet Mazur.
In 1998, Marilyn Manson asked Navarro to play a guitar solo for Manson's song "I Don't Like The Drugs (But The Drugs Like Me)" which appears on the record Mechanical Animals, to which Navarro agreed, earning himself credit for the solo in the album's liner notes.
In 2002, Jane's Addiction again reunited and recorded a studio album, with Chris Chaney now playing bass. Following the release of Strays in 2003, Jane's Addiction again broke up in mid-2004, and Navarro has since formed a new band called The Panic Channel with Perkins and Chaney and singer Steve Isaacs. They are currently recording their debut album.
In addition to his musical work, Dave Navarro has briefly appeared in two movies, Floundering (1994) and Uptown Girls (2003). Navarro also wrote a movie review column entitled "Movies & Crap" for Bikini magazine with his cousin Johnny (although they referred to themselves as brothers in the column). He has written for Details, Nylon, Ray Gun, and Us Weekly magazines and co-written a photo book entitled Don't Try This at Home. And he has also made several appearances on the television series Celebrity Poker Showdown, playing no-limit Texas Hold 'Em in support of his favorite charity.
Navarro appeared on Punk'd with his third wife Carmen Electra after they were both fooled by Ashton Kutcher during a hit and run chase. He appeared with Electra in an MTV reality series profiling their married life.
In 2005, Navarro served as co-host of the reality TV show Rock Star: INXS alongside Brooke Burke. During the competition to determine a new lead vocalist for INXS, the exposure and success of the show made Navarro's name much better known among mainstream music fans.
Discography
With Jane's Addiction
• Studio Albums

o Nothing's Shocking 1988
o Ritual de lo Habitual 1990
o Strays 2003

• Others

o Jane's Addiction (live at the Roxy in Los Angeles, CA January 26, 1987) 1987
o Live and Rare (Japan release of rare and live tracks) 1991
o Kettle Whistle (a compilation that included new songs,live tracks and old rarities) 1997
o Live '86: The First Recording [LIVE] (recording of the first Jane's Addiction show) 1997

• Singles and EP's

o Mountain Song (Single - UK release)
o The Shocking E.P. (EP - UK release)
o Three Days/Stop! (single)
o Been Caught Stealing (single)
o Classic Girl (single)
o Just Because (single)
o True Nature (single)


With Deconstruction

• Studio Albums

o Deconstruction 1994

• Singles and EP's
o L.A. Song promo (single)

With the Red Hot Chili Peppers
• One Hot Minute 1995
• Warped (EP)
• My Friends (EP - UK release)
• Aeroplane (EP)
• Love Rollercoaster (EP)
• Shallow Be Thy Game (EP - Australian release)
• Coffee Shop (EP - German release)


Solo work
• Rhimorse (EP - never released) 1995
• Trust No One 2001
• Rexall (EP - UK/Australia release)
• Trust No One (promo sampler EP)
• Rexall (EP)
Guitar work on new flyleaf album 2005


This article is licensed under the GNU Free Documentation License. It uses material from the Wikipedia article "Dave Navarro"