Eric Clapton Biography
From Wikipedia, the free encyclopedia.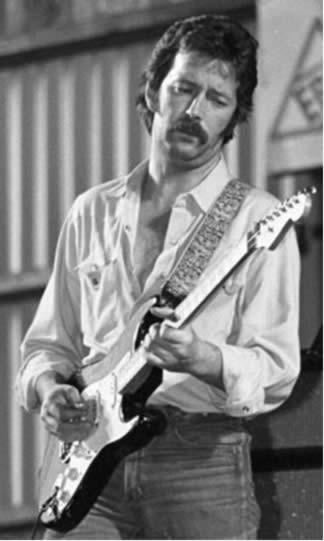 Eric Patrick "Slowhand" Clapton

Eric Patrick "Slowhand" Clapton CBE (born 30 March 1945) is a Grammy Award winning British composer, singer and guitarist who became one of the most respected and influential artists of the rock era, garnering an unprecedented three inductions into the Rock and Roll Hall of Fame.
Clapton is widely considered to be one of the greatest and most influential guitarists in popular music history. Clapton's musical style has undergone multiple changes during his career, but has always remained rooted in the blues.
Clapton is credited as an innovator in several phases of his career, which have included blues-rock (with John Mayall & the Bluesbreakers and The Yardbirds), blues-hard rock (with Cream), and work as a sideman and a solo artist; he has achieved chart success in genres ranging from Delta blues (Unplugged) and psychedelic rock ("Sunshine of Your Love") to pop ("Change the World") and reggae ("I Shot the Sheriff").
Musical Career & Personal Life
Clapton's Early Years "Slowhand", as he is nicknamed, was born in Ripley, Surrey, England, UK, as the illegitimate son of 16 year old Patricia Molly Clapton and Edward Walter Fryer - a 24 year old Canadian pilot. Fryer returned to his wife in Canada before Clapton was born.
Young Clapton grew up with his grandparents, believing they were his parents, and that his mother was his older sister. Years later his mother married another Canadian soldier, moved to Canada and left Eric with his grandparents. When Clapton was 9 years old he discovered this family secret, and the experience became a defining moment in his life.
Clapton grew up a self-confessed "nasty kid". In his high school years he attended the Hollyfield School in Surbiton. His first job was as a postman. He studied stained-glass design at Kingston Art School and started teaching himself how to play the guitar at age 15. Influenced by the blues from an early age, he joined his first band at 17, and stayed with this band - the early British R&B outfit The Roosters - from January to August 1963. During his time with the band, Clapton frequently jammed in London clubs with future members of the Rolling Stones. Clapton did a seven-gig stint with Casey Jones and the Engineers, a Top 40 band, in September 1963.
The Yardbirds & John Mayall and the Bluesbreakers
Clapton joined The Yardbirds, a blues-influenced rock and roll band in 1963 and stayed with them until 1965. Synthesising influences from Chicago blues and leading blues guitarists such as B.B. King and Freddie King, Clapton forged a distinctive style and rapidly became one of the most talked-about guitarists in the British music scene.
The band initially played all strict blues covers of Chess/Checker/Vee-Jay material and began to attract a large cult following when they took over the Rolling Stones' residency at the Crawdaddy Club in Richmond. They toured Europe with American bluesman Sonny Boy Williamson; a joint LP under both their names was issued in 1966. In August 1965, the band's first solo album For Your Love yielded the eponymous pop hit "For Your Love."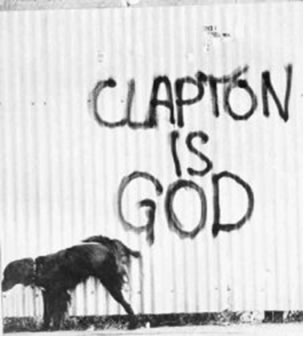 The famous "Clapton is God" graffiti craze


Still obstinately dedicated to his roots in blues, Clapton took strong exception to the Yardbirds' new pop-orientated direction, partly because "For Your Love" had been written by pop songwriter-for-hire Graham Gouldman, who had also written hits for teen pop outfit Herman's Hermits and harmony pop band The Hollies.
He reportedly refused to play on the single and quit the band as soon as it had been recorded in 1965. He recommended his friend Jimmy Page as his replacement, but Page was at that time unwilling to relinquish his lucrative career as a freelance studio musician, and Page in turn recommended Clapton's successor, Jeff Beck, although Page would also eventually join the band.
After a spell working in a laboring job and months of intensive practice, Clapton joined John Mayall & the Bluesbreakers. His emotional playing on their hugely influential first album (which features Clapton reading a copy of the Beano on the cover) established his name as a blues player par excellence, and it inspired a short-lived craze of graffiti that deified him with the famous slogan "Clapton is God".
Cream
Clapton left the Bluesbreakers in mid-1966 (to be replaced by Peter Green) and then formed Cream, one of the earliest examples of a supergroup. Cream was also one of the earliest "power trios", with Jack Bruce (also of the Bluesbreakers and Manfred Mann) and Ginger Baker (of the Graham Bond Organisation).
During his time with Cream Clapton began to develop as a singer as well as guitarist, though Bruce, one of rock's most powerful singers, took most of the lead vocals and wrote most of their songs along with lyricist Pete Brown.
Debuting at the Windsor Jazz and Blues Festival, Cream established an enduring legend on the high-volume blues jamming and extended solos of their live shows, while their studio work was more sophisticated and original psychedelic rock.
In early 1967, Clapton's status as Britain's top guitarist was shaken by the arrival of Jimi Hendrix. Hendrix attended a performance of the newly-formed Cream at the Central London Polytechnic on October 1, 1966, during which Hendrix sat in on a shattering double-timed version of Killing Floor. Clapton immediately realized that he had a new and almost unbeatable competitor, whose dazzling showmanship was matched by his staggering ability as a guitarist.
Hendrix's early club performances were avidly attended by top UK stars including Clapton, Pete Townshend and The Beatles. Hendrix's arrival had an immediate and major effect on the next phase of Clapton's career.
Cream's repertoire varied from pop soul ("I Feel Free") to lengthy blues-based instrumental jams ("Spoonful") and featured Clapton's searing psychedelic guitar lines, Bruce's soaring vocals and prominent, fluid bass playing, and Baker's powerful, polyrhythmic jazz-influenced drumming.
In a mere three years Cream had immense commercial success, selling 15 million records and playing to standing-room only crowds throughout the U.S. and Europe. They redefined the instrumentalist's role in rock and were one the first bands to emphasize musical virtuosity, skill and flash.
Their U.S. hit singles include "Sunshine Of Your Love" (#5, 1968), "White Room" (#6, 1968) and "Crossroads" (#28, 1969, a live version cover of Robert Johnson's country blues).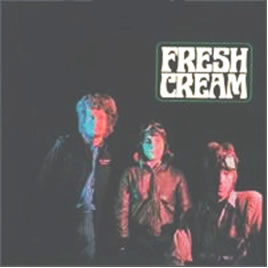 Fresh Cream, the debut album from supergroup Cream


Although Cream was hailed as one of the greatest groups of its day, and the adulation of Clapton as guitar hero reached new heights, the band was destined to be short-lived. The legendary in-fighting between Bruce and Baker and growing tensions between all three members eventually led to Cream's demise.
Another significant factor was a strongly critical Rolling Stone review of a concert of the group's second headlining U.S. tour, which affected Clapton profoundly. By this time he had also fallen deeply under the spell of the music of The Band after they had released the album Music From Big Pink and began to believe that rock music was heading in a new direction.He was so infatuated with them that he even asked to join them, but was turned down.
The valedictory Goodbye album featured live performances from Cream's farewell performance at the Royal Albert Hall; it was released shortly after Cream disbanded in 1968, and also featured the studio single "Badge", co-written by Clapton and George Harrison, whom he had met and become friends with after the Beatles had shared a bill with the Clapton-era Yardbirds at the London Palladium. (The chorus of "Badge" served as the basis for Harrison's later Beatles composition, "Here Comes the Sun", which Harrison reportedly composed in Clapton's back garden.)
The close friendship between Clapton and Harrison also resulted in Clapton playing on Harrison's "While My Guitar Gently Weeps" from the Beatles' White Album - according to some, a tactic intended to make the other Beatles take Harrison's song more seriously, but whatever the truth, by all accounts the presence of an outsider, especially of Clapton's calibre, had the effect of bringing harmony to the irritable band. (At one point during the making of the White Album, Harrison walked out after a row, and in his absence - fearing Harrison had gone for good and concerned that the album could not be completed - John Lennon proposed that Harrison be replaced by Clapton.)
Since their 1968 breakup, Cream briefly reunited in 1993 to perform at the ceremony inducting them into the Rock and Roll Hall of Fame (Clapton is a three-time inductee, for his work with Cream, the Yardbirds and for his solo career). A full-scale reunion of the legendary trio took place in May 2005, with Clapton, Bruce and Baker playing 4 sold-out concerts at London's Royal Albert Hall, scene of their 1968 farewell shows, and 3 more at New York's Madison Square Garden that October. The London shows were released on CD and DVD in September 2005.
Blind Faith & Delaney and Bonnie and Friends
A desultory spell in a second supergroup, the overhyped and shortlived Blind Faith (1969), which was composed of Cream drummer Baker, Steve Winwood of Traffic and Rick Grech of Family, resulted in one patchy LP and one arena-circuit tour.
The supergroup debuted before 100,000 fans in London's Hyde Park on June 7, 1969, and began a sold-out American tour in July before its one and only album had been released.
The LP was recorded in such haste that side two consisted of just two songs, one of them a 15 minute jam entitled "Do What You Like". Nevertheless, Blind Faith did include two classics: Winwood's "Can't Find My Way Home" and Clapton's "Presence of the Lord". The album's jacket image of a topless prepubescent girl was deemed controversial in the U.S. and was replaced by a photograph of the band.
Blind Faith dissolved after only a year together, and while Winwood went on to a highly successful solo career, by now Clapton was tired of both the spotlight and the hype that had surrounded Cream and Blind Faith, and wanted to make music that more closely resembled that of The Band.
Clapton decided to step into the background for a time, touring as a sideman with the American group Delaney and Bonnie and Friends. He moved to New York in late 1969 and worked with the band through early 1970. He became close friends with Delaney Bramlett, who encouraged him in his singing and writing which would show determined growth in his next effort.
Using the Bramletts' backing group and an all-star cast of session players including Leon Russell and Stephen Stills whose solo albums Clapton played on, he released his first solo album in 1970 fittingly named Eric Clapton, which included the Bramlett composition "Bottle Of Red Wine" and one of Clapton's best songs from this period, "Let It Rain". It also yielded an unexpected U.S. #18 hit, the J.J. Cale cover "After Midnight".
Clapton's "between-bands" period from 1969 to 1970 also saw him appear on a large number of other artists' records, ranging from George Harrison's All Things Must Pass (for contractual reasons, Clapton's contributions went uncredited for decades) to The Plastic Ono Band's Sometime in New York City and Dr John's Sun Moon and Herbs.
Derek & the Dominos
Taking over Delaney & Bonnie's rhythm section — Bobby Whitlock (keyboards, vocals), Carl Radle (bass) and Jim Gordon (drums) — Clapton formed a new band which was similarly intended to counteract the 'star' cult that had grown up around him and show Clapton as an equal member of a fully-fledged group.
This was made evident in the choice of name Derek and the Dominos, derived from an announcer's mispronunciation of the group's provisional name -- Eric & The Dynamos -- at their first concert appearance.
Clapton's close friendship with George Harrison had brought him into contact with Harrison's wife Pattie Boyd-Harrison, with whom he fell deeply in love. When she turned him down, Clapton's unrequited affections prompted most of the material for the Dominos' album Layla and Other Assorted Love Songs, most notably the hit single "Layla", inspired by the Persian classical poet Nizami Ganjavi's "The Story of Layla and Majnun", a copy of which a friend had given him; Clapton found a strong similarity between the situation of Layla and Majnun and the one between him and Boyd-Harrison. Working at Criteria Studios in Miami with legendary Atlantic Records producer Tom Dowd, the band recorded a brilliant double-album which is now widely regarded as Clapton's masterpiece. The two parts of "Layla" were recorded in separate sessions: the opening guitar section was recorded first, and for the second section, laid down several months later, drummer Jim Gordon composed and played the elegiac piano part.
Layla and Other Assorted Love Songs is considered Clapton's masterpiece
The Layla LP was actually recorded by a five-piece version of the group, thanks to the unforeseen inclusion of guitarist Duane Allman of The Allman Brothers Band. A few days into the Layla sessions, Dowd -- who was also producing the Allmans -- invited Clapton to an Allman Brothers outdoor concert in Miami.
The two guitarists — who previously knew each other only by reputation — met backstage after the show, and then both bands repaired to the studio to jam (an impromptu session which, happily, was captured on tape). Clapton and Allman fell in love with each other's playing and became instant friends, and Allman was immediately invited to become the fifth member of The Dominos. (These studio jams were eventually released as part of the 3-CD 20th-anniversary edition of the Layla album.)
When Allman and Clapton met, The Dominos had already recorded three tracks ("I Looked Away", "Bell Bottom Blues" and "Keep On Growing"); Allman debuted on the fourth cut, "Nobody Knows You When You're Down And Out", and contributed some of his most sublime slide-guitar playing to the remainder of the LP.
The album was heavily blues-influenced and featured a winning combination of the twin guitars of Allman and Clapton, with Allman's incendiary slide-guitar a key ingredient of the sound. It showcased some of Clapton's strongest material to date, as well as arguably some of his best guitar playing, with Whitlock also contributing several superb numbers, and his powerful, soul-influenced voice.
Tragedy dogged the group throughout its brief career. During the sessions, Clapton was devastated by news of the death of Jimi Hendrix; eight days previously the band had cut a blistering version of Little Wing as a tribute to him which was added to the album. One year later, on the eve of the group's first American tour, Duane Allman was killed in a motorcycle accident.
Adding to Clapton's woes, the Layla album received only lukewarm reviews on release; he later commented that the album's initial poor reception had angered and disillusioned him, as he had (perhaps naievely) expected it to be assessed on its merits rather than his involvement.
The shattered group undertook a US tour. Despite Clapton's later admission that the tour took place amidst a veritable blizzard of drugs and alcohol, it resulted in the surprisingly strong live double album In Concert. But Derek and the Dominos disintegrated messily in London just as they commenced recording for their second LP.
Although Radle worked with Clapton for several more years, the split between Clapton and Whitlock was apparently a bitter one, and they never worked together again. Another tragic footnote to the Dominos story was the fate of drummer Jim Gordon, who was an undiagnosed schizophrenic — some years later, during a psychotic episode, he murdered his mother with a hammer and was confined to a mental institution, where he remains today.
Full Throttle Solo Career
Despite his success, Clapton's personal life was in a mess by 1972. In addition to his (temporarily) unrequited and intense romantic longing for Pattie Boyd-Harrison, he withdrew from recording and touring and became addicted to heroin, resulting in a career hiatus interrupted only by the Concert for Bangladesh (where he passed out on stage, was revived, and continued the show).
In 1973, the "Rainbow Concert" was organized by The Who's Pete Townshend to help Clapton kick the drug. Clapton returned the favour by playing 'The Preacher' in Ken Russell's film version of The Who's Tommy in 1975; his appearance in the film (performing "Eyesight To The Blind") is notable for the fact that he is clearly wearing a fake beard in some shots, the result of deciding to shave off his real beard after the initial takes.
Now partnered with Boyd-Harrison (they would not actually marry until 1979) and free of heroin (although starting to drink heavily), Clapton put together a strong new touring band that included Radle, Miami guitarist George Terry, drummer Jamie Oldaker and vocalists Yvonne Elliman and Marcy Levy (later better known as Marcella Detroit of 1980s pop duo Shakespear's Sister).
With this band Clapton recorded 461 Ocean Boulevard (1974), an album with the emphasis on songs rather than musicianship; the cover-version of "I Shot The Sheriff" was a major hit and was important in bringing reggae and the music of Bob Marley to a wider audience.
The band toured the world and subsequently released the 1975 live LP, 'E.C. Was Here. The 1975 album There's One In Every Crowd continued the trend of 461. Its original intended title The World's Greatest Guitar Player (There's One In Every Crowd) was altered, as it was felt the ironic intention would be missed. (Clapton's own original cover artwork, a (self-)portrait of a miserable-looking character with a pint glass, was also replaced by a photograph of Clapton's dog Jeep, apparently with its muzzle on a coffin.)
Clapton continued to release albums sporadically and toured regularly, but much of his output from this period was deliberately low-key and failed to find the wide acceptance of his earlier work; highlights of the era include No Reason to Cry, whose collaborators included Bob Dylan and Robbie Robertson, and Slowhand, which featured "Wonderful Tonight", another song inspired by Pattie Boyd-Harrison, and a second J.J. Cale cover, "Cocaine", which has since become a rock staple.
Controversy and tragedy
In 1976, Clapton was the centre of controversy, and accusations of racism, when he spoke out against increasing immigration, during a concert in Birmingham. Clapton said that England had "become overcrowded", and implored the crowd to vote for Enoch Powell to stop Britain becoming "a black colony".These comments (along with equally ill-advised remarks by David Bowie) led to the creation of the Rock Against Racism movement in the UK.
Despite the damage to his career and reputation the remarks caused, Clapton has always steadfastly refused to distance himself from the remarks and denied there was any contradiction between his political views and his career based on an essentially black musical form.
At about this time, his name appeared on albums distributed in Japan as Eric Crapton[1], though this is most probably a case of Engrish rather than sabotage.
The late 1970s saw Clapton struggle to come to terms with the changes in popular music, and a relapse into alcoholism that eventually saw him hospitalised and then spending a period of convalescence in Antigua, where he would later support the creation of a drugs and alcohol rehabilitation centre, The Crossroads Centre.
As Clapton came back from his addictions, his album output continued in the 1980s, including two produced with Phil Collins, 1985's Behind the Sun and 1986's August.
The latter, a polished, pop-oriented album suffused with Collins's trademark drum/horn sound, became his biggest seller in the UK to date and matched his highest chart position, number 3.
The album's first track, the hit "It's In The Way That You Use It", was also featured in the Tom Cruise-Paul Newman movie The Color of Money. Clapton won more plaudits and a British Academy Television Award for his collaboration with Michael Kamen on the score for the critically-acclaimed 1985 BBC television thriller serial Edge of Darkness.
It wasn't until 1989 however that Clapton saw a full resurgence with Journeyman, which featured songs in a wide range of styles from blues to jazz, soul and pop and collaborators including George Harrison and Robert Cray.
In 1985 Clapton, while still married to Pattie Boyd-Harrison, started a relationship with Yvonne Khan Kelly; they had a daughter, Ruth, in the same year.
Clapton did not publicly acknowledge his daughter's existence for several years (she eventually made a spoken-word appearance on his 1998 album Pilgrim and in 2001 was pictured in the Reptile album artwork).
Clapton and Boyd-Harrison divorced in 1988 following his affair with Italian model Lori Del Santo, who gave birth to his son Conor in August 1986 (the month of his birth prompting the title of the album released that year).
The early 1990s saw tragedy enter Clapton's life again on two occasions. On August 27, 1990 guitarist Stevie Ray Vaughan, who was touring with Clapton, and two members of their road crew were killed in a helicopter crash between concerts.
Clapton was originally supposed to be a passenger on the helicopter but had given his seat to Vaughan. Then, on March 20, 1991, at 11 a.m., Conor, who was four and a half, died when he fell from a 53rd-story window in his parents' New York City apartment, landing on the roof of an adjacent four-story building.
A fraction of Clapton's grief was heard on the song "Tears in Heaven" (on the soundtrack to the 1991 movie Rush), co-written with Will Jennings, which, like the MTV Unplugged album that followed it, won a Grammy award.
It should be noted that MTV Unplugged included former Allman Brothers Band keyboardist Chuck Leavell, thus making MTV Unplugged Clapton's second critically aclaimed offering to feature a member of the Allmans.

Slowhand Re-Emerging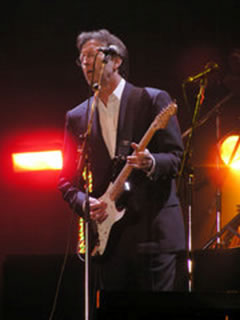 Eric Clapton at the Tsunami Relief concert in Cardiff's Millennium Stadium, 22 January 2005
Like Unplugged, his 1994 album From The Cradle featured a number of versions of old blues standards, and highlighted his economical acoustic guitar style. In 1997 he recorded Retail Therapy, an album of electronic music with Simon Climie under the pseudonym TDF, and he finished the twentieth century with critically-acclaimed collaborations with Carlos Santana and B. B. King. Clapton's 1996 recording of the Wayne Kirkpatrick/ Gordon Kennedy/Tommy Sims tune "Change the World" won a Grammy award for song of the year in 1997.
In 1999 Clapton, then 54, met 25 year old graphic artist Melia McEnery in Los Angeles while working on an album with B.B. King. They married in 2002 at St Mary Magdalen church in Clapton's birthplace, Ripley, and as of 2005 have three daughters, Julia Rose (2001), Ella May (2003), and Sophie (2005).
In November 2002 Clapton masterminded The Concert for George, a star-studded tribute to George Harrison at the Royal Albert Hall, featuring Sir Paul McCartney, Ringo Starr, Jeff Lynne, Tom Petty and others.
The rights to Clapton's official memoirs, to be written by Christopher Simon Sykes and published in 2007, were reportedly sold at the 2005 Frankfurt Book Fair for USD $4 million.
In 2006 it was announced that Derek Trucks would join Clapton's band for his 2006 and 2007 tour. Trucks is the third member of the Allman Brothers Band to support Clapton.
Eric's Axes
Clapton's choices of electric guitars have been as notable as the man himself, and alongside Hank Marvin, The Beatles and Jimi Hendrix, Clapton has exerted a crucial influence in popularising particular models of electric guitar.
Early in his career, he used a late 1950s Gibson Les Paul, and he was partially responsible for Gibson's reintroduction of the original Les Paul body style.
During his stint in Cream, Clapton continued to use Gibson guitars, including the Les Paul (which was later stolen) and a Gibson ES-335, but his most famous guitar in this period was a 1961 Gibson SG. The guitar was noted both for its distinctive singing tone -- which Clapton called the "woman tone" -- and for its remarkable appearance.
In early 1967, just before their first US promotional tour, Clapton's SG, Bruce's Fender VI and Baker's drum head were repainted in eye-popping psychedelic designs created by the visual art collective known as "The Fool".
It is not clear whether Clapton played the SG or a Les Paul on "While My Guitar Gently Weeps". (Guitar World magazine, March 1999, page 117 says it was a Les Paul, as do most other references.) He later loaned the SG to singer Jackie Lomax, who subsequently sold it to musician Todd Rundgren for US 500 in 1972.
Rundgren restored the guitar and nicknamed it "Sunny", after "Sunshine Of Your Love", on which it featured. He played the guitar extensively on record and in concert in the mid-1970s, eventually retiring it in 1977. He retained it until 2000, when he sold it at an auction for US$150,000.
During Clapton's heroin addiction from 1971 to 1973 following the dissolution of Derek and the Dominos, Clapton began to sell his collection of guitars to pay for his drug habit. Seeing Clapton selling his most treasured possessions was one of the reasons Pete Townshend was prompted to assist him get off the drug.
Another moment involving Clapton's guitars and Pete Townshend resulted in Hard Rock Cafe's unique and gigantic collection of memorabilia. In 1971, Clapton, a regular at the original Hard Rock Cafe in Hyde Park, London, gave a signed guitar to the cafe to designate his favorite bar stool.
Pete Townshend, in turn, donated one of his own guitars, with a note attached: "Mine's as good as his! Love, Pete." From there, the collection of memorabilia grew, resulting in Hard Rock Cafe's atmosphere. Later (and probably due to Hendrix's influence), Clapton began using Fender Stratocasters.
Most famous of all Clapton's guitars was "Blackie", a concoction of favorite parts from several other 'Strats' and which he used until the late 1980s when it literally wore out.
In 1988 Clapton, along with fellow Strat player Yngwie Malmsteen, was honored by Fender with the introduction of his signature Eric Clapton Stratocaster signature series.
These were the first two artist models in the Stratocaster range and since then the artist series has grown to include models inspired by both Clapton's contemporaries such as Jeff Beck and those who have influenced him such as Buddy Guy.
The late Stevie Ray Vaughan also has an artist series model. Clapton has also been honoured with a signature-model acoustic guitar made by the famous American firm of C.F. Martin & Co..
In 1999 Clapton auctioned off some of his guitar collection to raise money for his Crossroads Centre he founded in Antigua in 1997. The Crossroads Centre is a treatment base for addictive disorders like drugs and alcohol. The total revenue raised by the auction at Christie's was US $7,438,624.

Band
Current Band
Here are the current members of Eric's band.
• Eric Clapton - guitar, vocals
• Doyle Bramhall II - guitar, backing vocals
• Andy Fairweather Low - guitar
• Paulinho Da Costa - percussion
• Nathan East - bass guitar, backing vocals
• Steve Gadd - drums
• David Sancious - keyboards, guitar, harmonica, backing vocals
• Chris Stainton - piano, keyboards
• Billy Preston - Hammond B3 Organ


Previous Band Members• John Jackson - guitar
• Phil Collins - drums, vocals
• Ray Cooper - percussion
• Yvonne Elliman - backing vocals
• Andy Fairweather Low - guitar, backing vocals
• Steve Ferrone - drums
• Katie Kissoon - backing vocals
• Mark Knopfler - guitar
• Ricky Lawson - drums
• Chuck Leavell - keyboards
• Marcy Levy - backing vocals
• Tessa Niles - backing vocals
• Jamie Oldaker - drums
• Phil Palmer - guitar
• Pino Palladino - bass guitar
• Greg Phillinganes - keyboards, Hammond organ, backing vocals
• Carl Radle - bass guitar
• George Terry - guitar, backing vocals

Trivia
• According to Rolling Stone's rankings, B.B. King is the only living guitarist better than Clapton.
• Although many sources give his surname at birth as Clapp, this is incorrect. Though his grandmother's second husband's name was Clapp, his mother's name was Clapton; his grandparents never legally adopted him.
• Eric Clapton is credited on the Dire Straits' Brothers in Arms album due to the fact that he loaned Mark Knopfler one of his guitars for the album.
• Clapton played lead guitar on The Pros and Cons of Hitch Hiking, Roger Waters' first solo album after leaving Pink Floyd.
• Clapton was banned from driving in France and had his British driver license confiscated after being clocked driving at 216 km/h (134mph) in a Porsche 911 Turbo on a French motorway in October 2004.
• Clapton claims to have slept with over 1,000 women. He once ordered a fellow musician to let him have sex with his girlfriend. See The Times profile for more details.
• Minor Planet 4305 is named 4305 Clapton to honor him. It is an asteroid between Mars and Jupiter.
• Once while playing a Cream concert, he suddenly stopped playing, and neither Ginger Baker nor Jack Bruce noticed.
• The soundtrack of Goodfellas contains two of his songs: "Layla" by Derek and the Dominos and "Sunshine of Your Love" by Cream. Both of these songs have immedately recognizable guitar riffs (even to those who have never heard the songs in their entirety), although the portion of "Layla" used is the piano coda, and not the riff for which the song is known.
• Clapton performed at The Band's farewell show, which is chronicled in The Last Waltz, a film by Martin Scorcese. While performing the beginning of "Further On Up the Road," his guitar strap came undone. To cover for him while he fixed it, Robbie Robertson improvised a guitar solo.
• Before the formation of Cream in 1966, Clapton was all but unknown in the United States. He left The Yardbirds before "For Your Love" hit the American Top Ten.
• Upon his return to England after recording Layla and Other Assorted Love Songs, he was supporting a £1,000-per-week heroin addiction.
• He was number 4 in Rolling Stone's List of the 100 Greatest Guitarists of All Time.
• Played two farewell concerts on November 26: Cream in 1968, and The Last Waltz in 1976.
• Clapton's work is often used in the media, and has been an inspiration for many guitarists.
• Clapton and Cream bandmates Ginger Baker and Jack Bruce have all played with each other in other groups. Clapton and Baker played together in the short-lived supergroup Blind Faith, Baker and Bruce played together with the Graham Bond Organisation and Blues Incorporated, and Bruce and Clapton played together near the end of Clapton's tenure with John Mayall's Bluesbreakers.
• Prior to the Cream reunion at the Royal Albert Hall, the band had never played "Badge" live, since the song was included on Goodbye, the band's last original album before their break-up.
• When "Layla Unplugged" hit #12 on the U.S. charts, Clapton became one of only two artists (the other being Neil Sedaka) to have made the Billboard Hot 100 with two versions of the same song.
• The nickname Slowhand, apart from being an ironic reference to the speed at which he plays, is a pun on "slow-hand clap".
• Even though all three were band members of The Yardbirds, Clapton, Jimmy Page, and Jeff Beck never played in the band all at the same time. The three guitarists did however all play on stage at the same time at the ARMS charity concerts in 1983 in honour of Ronnie Lane.
• Because the electric version is difficult to coordinate live (it requires the use of a piano), Clapton will frequently play the acoustic version of "Layla." However, Clapton did play an electric version of the song at Live Aid in 1985; instead of a piano, an electronic keyboard was used.
• According to an interview with Ginger Baker on the Cream reunion DVD, the reunion was Clapton's idea.

Quotations
• "Some people talk about me like a revolutionary. That's nonsense – all I did was copy B.B.King." Eric Clapton;
• "He is a great person, as well as a great musician. And this guy sings like he was born down below Mississippi!" B.B. King
• "To have ownership of something that powerful is something I'll never be able to get used to. It still knocks me out when I play it." - About "Layla"
Further reading
• Ray Coleman, Clapton! The Authorised Biography (Warner Books, 1985; originally published as "Survivor")
• Fred Weiler, Eric Clapton (Smithmark, 1992)
• Eric Clapton: Crossroads liner notes
• Marc Roberty, Eric Clapton - The Complete Recording Sessions 1963-1992
• Marc Roberty, Eric Clapton: The New Visual Documentary (Omnibus Press, 1994)
• Marc Roberty, Clapton - The Complete Chronicle (Mitchell Beazley, 1993)
• Michael Schumacher, Crossroads - The Life and Music of Eric Clapton (Warner Books, 1998)
• Robin Bextor, Eric Clapton - Now & Then (Carlton Books, 2006)
This article is licensed under the GNU Free
This article is licensed under the GNU Free Documentation License. It uses material from the Wikipedia article "Eric Clapton".