Joe Satriani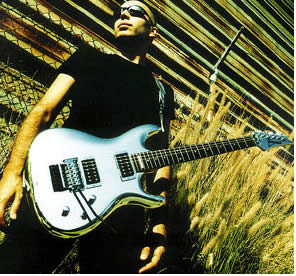 Born: 1956 in New York:

Visit Joe Satriani's Home Page

The acclaimed guitar virtuoso Joe Satriani first established himself on the San Francisco music scene during the early 1980s. Satriani became one of the most recognized guitar teachers in the area, inspiring pupils such as Kirk Hammett (later of Metallica), Larry LaLonde (later of Primus) and Steve Vai (now an acclaimed solo guitarist in his own right).

Satriani did not begin recording until 1984, when he released a now out-of-print self-titled EP. Signing to Relativity, in 1986 he released his full-length solo debut Not of This Earth, a set of tracks that highlighted the young guitarist's amazing technical ability with complex hard rock instrumental epics.


Joe Satriani's popularity expanded with his 1987 follow-up, Surfing with the Alien, one of the few all-instrumental albums to ever reach the Top 40. Joe Satriani became known as a "guitar player's guitar player," influencing countless hobbyists and professionals with his innovative style and sure-fingered playing.


After issuing the 1988 mini-album Dreaming No. 11, recorded with legendary bassist Stu Hamm, Satriani released his next full-length, 1989's Flying in a Blue Dream, which introduced vocals. 1992's The Extremist was followed by a double-disc 1993 retrospective, Time Machine. Joe Satriani worked with the famous hard rock producer Glyn Johns on a 1995 eponymous album before moving on to a series of tours with other top guitarist known as "G3."


As electronic music hits ever-higher peaks in the current market, the ability to create music has fallen into the hands of anyone with enough cash for a computer and sufficient time to learn how to run the latest music software. And as the scene floods with disk after disk of techno dreck, a question burns quietly among true music fans: What would happen if an actual musician got his/her hands on some of this highfalutin' gear? Would they produce a record with a crafty modernist sensibility and the heart and skill of a bona fide player?


Engines of Creation can be said to mark a startling new phase of creativity for Joe Satriani, one of the most celebrated and accomplished guitar players of the last decade. The record is diversely cutting-edge, riddled with musical riddles and satisfying answers, laced with stunning sonic handiwork and astounding melodic assaults. At first listen, you may not realize this was a record made by a guitar player--but once you've heard the guitar, you'll most certainly know who's playing it.


Yet Engines of Creation also simply represents a new level of sonic achievement for an artist who has for years been employing electronic textures, severely altered guitar tones and jump-cut dynamic and compositional gestures. The disk is as much a snapshot of where that evolution has taken him and his listeners as it is, only coincidentally, a musical statement which speaks directly to the current state of electronica, ambient, drum 'n' bass, and hip-hop.


Since the beginning of his recording career, Joe Satriani has been a searching producer and eccentric composer--one who, only coincidentally, happened to be a monstrously talented guitarist as well. His first album, a ground-breaking self-titled white-label job sold out the trunk of his car, was created entirely by altering, re-tuning, battering and otherwise manipulating the guitar in the pursuit of utterly new and striking sounds.


And for all its wildness and scope, Engines of Creation is the result of a meticulous effort to again tap into those artistic areas, rather than simply to superimpose a batch of virtuoso guitar performances onto modernized rhythm tracks. The burning "Devil's Slide" is a classic Satriani structure underpinned by forward-thinking grooves and sinister harmonies, while cuts like "Borg Sex" and "Slow and Easy" radically morph any idea about what guitar melodies should sound like.


With the exception of portions of the single "Until We Say Good-bye," which features bass work by noted guitarist Pat Thrall and the drumming of "Late Show with David Letterman" mainstay Anton Fig under the production eye of Kevin Shirley (Aerosmith, Black Crowes), all the Engines tracks were recorded by Joe Satriani and his co-producer Eric Caudieux. Caudieux is best know for his expert digital editing and programming work alongside legendary producer Trevor Horn (Seal, Rod Stewart); and for his extensive editing of the recent Guns N' Roses live anthology.


Engines of Creation grew from Satriani's experimental recording sessions in the wake of his recent band project Crystal Planet. Taking the rare opportunity to compose at a keyboard in his home studio, and entranced with such recent music as Crystal Method's Vegas album, the guitarist wrote a group of tunes which he gradually honed during breaks between tours and collected into malleable MIDI files.


When enough friends and colleagues heard the material and insisted that he make the tracks into a proper album rather than an obscure side project, the guitarist acquiesced and turned to Caudieux for production assistance. Over a period of several months at a rented house in Laurel Canyon, Engines of Creation emerged through intensive sessions with nothing on hand but keyboards, guitars, effects and computers.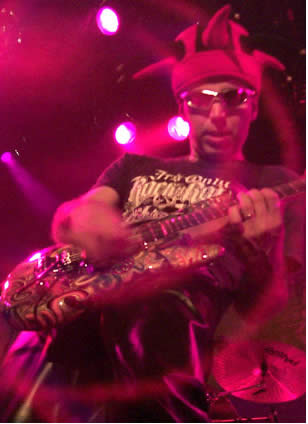 The result is a heaping helping of sound collage, jarring leaps and mind-altering segues, ripped apart by sudden percussive blasts and liquid flurries of notes.


Because of the conveniences afforded by the computer medium, lapses of near-silence can erupt into passages of huge orchestral splendor or ripping space-guitar, while synth pads and chugging basslines move in and out of the music seamlessly It's music equally at home on the dance floor or coming through headphones in the lava-lamp glow of the smoking room.


Though thoroughly and aggressively rooted in topical tones and modern production, Engines of Creation recognizes and holds fast to Satriani tradition; "The Power Cosmic" contains many of the melodic filigrees and displays of warped fretboard virtuosity that landed the guitarist on magazine covers worldwide, while the coda of the bluesy "Champagne?" is a solo treatment of suspended chords as popularized by Keith Richards, the guitarist Joe Satriani temporarily replaced as Mick Jagger's foil when the Rolling Stones frontman embarked on his first solo tour in 1988.
At that time, Joe Satriani was riding the first peak in his long career, having just released the instrumental, highly experimental Surfing with the Alien and watching it ascend the pop charts to eventually sell over two million copies worldwide.
In just a short time, he was a long way from Carle Place, Long Island, where as a local guitar hero he was visited by a younger schoolmate named Steve Vai, who showed up at his house with a five-dollar guitar in search of lessons.
After an inspired period of mentoring-- Joe's student roster would soon include jazz upstart Charlie Hunter, Metallica's Kirk Hammett, Primus' Larry LaLonde and many others-- Vai returned the favor by getting Joe Satriani signed to his record label, beginning a whirlwind of global acclaim and a series of gold and platinum albums, including Flying In A Blue Dream, The Extremist, and Time Machine.


The years since have seen Joe Satriani mount similar challenges and scale new heights: countless readers' poll awards from magazines, numerous Grammy nominations and sold-out cross-continental tours.


His versatility attracted a recent but politely declined invitation to join legendary heavy metal pioneers Deep Purple, with whom he toured in the '90s as a replacement for Ritchie Blackmore.


Joe Satriani also masterminded the phenomenal G3 tours, which brought to renewed worldwide attention the talents of guitar artists as varied as Steve Vai, Michael Schenker, Kenny Wayne Shepherd, Robert Fripp, Eric Johnson and many others.


Featuring nothing but computer-generated rhythms, timbres and his six-string, Engines of Creation is in some respects a throwback to Joe Satriani's first solo recording, a personal journey through music and sonic mayhem now combined with a raging artistic desire to harness the technology that's developed so radically over the intervening decade. It's a complex blend, but remains Satriani, pure and simple.